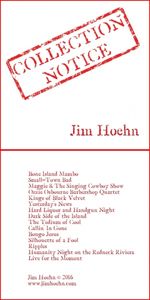 Jim Hoehn is a career journalist/author/songwriter who has carved out a surprisingly successful niche as a performing songwriter since first stumbling out of the pressbox with a guitar.
During his journalism career – much of it spent as a sportswriter – Hoehn has covered everything from plane crashes to murder trials to the Super Bowl and the Hong Kong 7s rugby tournament.
As a source of family editorial pride, he's also the guy who broke the Jeffrey Dahmer story for the National Enquirer.
His latest release is the aptly titled "Collection Notice," a selection of 15 original songs from his four previous recordings, "Silhouette of a Fool," "Royalty Check Hotel," "Deadline Penitentiary," and "Playa del Pressbox."
If nothing else, it makes a fabulous drink coaster.
---

John Hiatt 
We want to inform everyone that John recently took a bad fall off a hiking trail and sustained lacerations, bruising and a debilitating fracture. Thanks to the amazing efforts of the Grundy County EMS, Rangers of the South Cumberland State Park, and doctors, nurses and staff at Erlanger Hospital in Chattanooga, he is now recovering at home under the care of his personal doctor and is expected to make a full recovery.
Unfortunately, this means John has to cancel all shows scheduled for the remainder of 2023.  He feels terrible that he has to cancel.  The promoters will be providing information about refunds so please check back with them for those details. 
We appreciate your understanding and prayers while John is on the mend. He will see everyone soon.